Say
Goodbye to heavy bags
and Hello to our Mini 2.54" Phone, our phone meets your daily needs while always reflecting the advantages of
lightness and portability!
And the best thing is, it
works just like a regular-sized phone!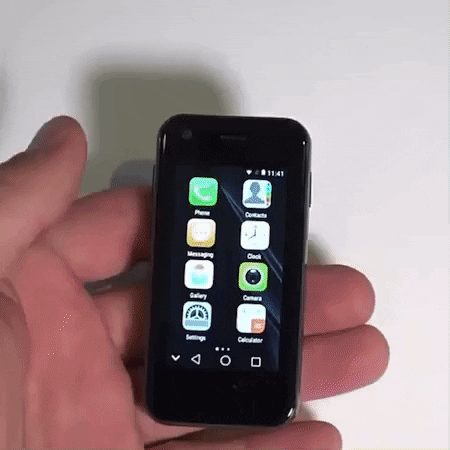 SMALL & COMPACT - Our Mini Phone is the size of a credit card, which is very suitable for your palm. Enjoy the comfort of our high tech artwork and precise design.
SUITABLE

 
-
Download your favorite apps

 
in the Google Play Store such as Facebook, Youtube, Instagram, Whats App, Tiktok, Twitter, etc.
FUNCTIONAL
- Supports
voice calls, video calls, camera, recording
, email, MP3, GPRS, FM radio, touch screen, GPS navigation, message, SMS, MMS, video player, memory card slot, Internet browser, Google map, etc. 
Mini Android Smart Phone 2.54"
Mode GSM/GPRS,Quad-Band
CPUMTK6580 quad core 1.3G
EDGE support download
Antennainner FPC antenna

Display
*High Resolution Screen 1GB
*Size: 2.5 inch 16:9 Appler nano screen
*Resolution: 240*432

Keys
*Main keys single point touch
*Key back light: Yes
*Side keys: Yes
*Touch key sensor: Yes
Camera
*Dual cameras
*Front: 0.3Mpx
*Back: 2Mpx
Memory
*Battery: 1000mah innner polymer battery
*RAM: 8GB ROM
*Innermemory: 1GB+8GB

Connectivity
*Bluetooth: Yes
*Analogue TV: No
*FM: Please install the FM radio APP
*Charging: USB Charging
*Earphones: It supports Micro USB earphones (not included)
*USB power cord: Yes (provided)

Interface Configuration
*Audio Jack: No
*SIM card slot: 2
*External TF card slot: Yes
*MTK6580 Quad Core: 1.3G

Languages
*Languages: Multi-languages
*Default Language: English

Input Method
*Keypad input: Yes
*Handwriting Input: Yes

UI
*UI stylepage by page
*On and off animation: Yes

Phone call
*IP Call: Yes
*Handsfree: Yes
*Call History: Yes
*Talk Time: Yes
*Speedy dial: Yes

Messaging/Internet
*WAP: Yes
*MMS: Yes
*SMS: Yes

Software Function
*Calculator: Yes
*Alarm: Yes
*Calendar: Yes
*Memo: Yes
*Fixed time ON/OFF: Yes
*Key Lock: Yes
*U Disk: Yes
Additional:
*Speaker: Yes
*MicSilicon paste plate
*Torch: No
*Motor: Yes
* Battery: 1000mah innner polymer battery
*Strap hole: No
Can I input a SIM card, use Bluetooth and WiFi?
Yes and double yes!
Are there any additional charges attached to my purchase?
No, this your order is a one time-purchase, no fees attached. Pinky promise.
Does The Mini Phone™ have speakers?
Yes
Can I take pictures with The Mini Phone?
Yes, includes dual cameras, front camera of 0.3Mpx and back camera of 2Mpx.
Can I download apps?
Yes, supports Google Play Store and you'll be able to download all your favorite apps!
Where can I find the specifications?
Our specifications are listed right before our reviews on the product page.
Where can I find a phone case for The Mini Phone™?
A clear phone case is included in the package.
1x Mini Phone™
1x User Manual
1x Card Reader
1x Phone Case
1x Protective Film
1x USB Charging Cable